Hotels
The majority of the Meeting will be held at the Tampa Convention Center,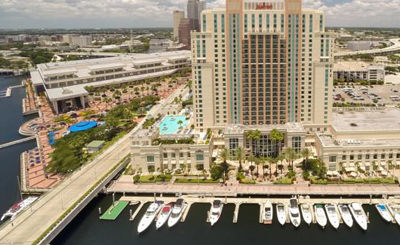 with a few events held at the headquarter hotel, Marriott Tampa Waterside.
ASA-CSSA-SSSA has negotiated discounted hotel rates for you within walking distance to the Tampa Convention Center; these discounted hotel rates range from $184-$235 per night for single. A small number of rooms at government rate were also negotiated. They will fill quickly, so if you qualify for government rate, please be sure to make your reservation as soon as housing opens.
In order for us to 'earmark' enough of these discounted rooms for our Annual Meeting attendees to reserve, we had to sign a contract guaranteeing that a certain amount of our attendee's will stay with these hotels (called the "block"). Your choice of hotel affects the Tri-Societies' ability to negotiate future contracts and discounts, as well as fulfillment of our contractual agreement with the hotels. Thus, we kindly ask that if you can, please choose to stay within the ASA-CSSA-SSSA block.
All reservations must be received by Sept. 27, 2017, to guarantee availability and conference rates. After this date, reservations will be made based on availability and hotels may charge higher rates.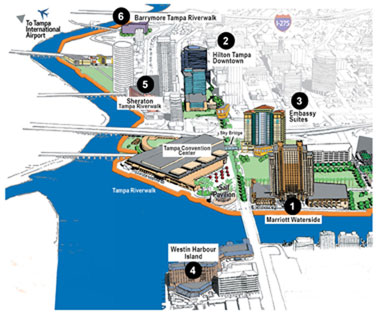 Deposit
All reservation requests must be accompanied by a credit card guarantee or check equaling the amount of one night's room and tax for each room reserved.
Acknowledgments
Orchid Event Solutions will send reservation acknowledgements within 72 hours. If you do not receive your acknowledgement in this time frame, contact Orchid Event Solutions. You will not receive confirmation from the hotel.
Cancellations & Changes
Cancellations received after Sept. 7, 2017, will be subject to a $40 cancellation fee. Cancellations within 72 hours of the arrival date will forfeit one night's room plus tax charge.
Send email requests for changes and cancellations to Orchid Event Solutions (help@orchideventsolutions.com) or fax to 801-355-0250.
Room Sharing
Send one housing form for each room, listing all persons staying in the room. Ages and names of children sharing a room with parents must be stated on the form. You must make your own arrangements for sharing a room. Neither the Societies nor Orchid Event Solutions will assign roommates. Requests for roommates may be posted on the Annual Meeting Forum. The Societies will not be held responsible for any roommate partnering issues originating from the use of the bulletin board or any other method.
Questions or Special Requests?
For questions or special requests, please contact Orchid Event Solutions at 877-505-0686 or e-mail help@orchideventsolutions.com. Special requests are not guaranteed. Hotels will assign specific room types upon check-in, based on availability.