Undergraduate Program
October 21 - 24, 2017
Students should plan on arriving October 20 and departing on or after October 25.
The registration fee covers admission to all SASES programs including meal functions and socials, and admission to all ASA, CSSA, and SSSA International Annual Meetings functions. It does not include the tour. Note: Your undergraduate registration includes access to the full ASA, CSSA,and SSSA Annual Meetings.
Registration Fees for Undergrad Members is less than that for Undergrad Non Members. As an undergrad, you can join one, two, or all three societies for only $20. Save serious money by joining and then registering for the meetings. Sign up for membership today!
Keynote Speaker – Sunday (check program for time)
Kim Bremmer, a nationally recognized agriculture speaker, will share her true passion of speaking up for agriculture with everyday consumers. She's a vocal champion of agriculture from the grocery store to the airport. Kim grew up as a farm girl and is a mother of two, graduate of UW-Madison and was a dairy nutritionist for 15 yearsShe has a mission to inspire farmers to tell their stories, connect people to where their food comes from, and represent the great success of American agriculture. She is the Wisconsin State Coordinator for Common Ground, a national movement of farm women who share information about farming and the food we grow, a regular contributor on Rural Route radio, and the President of Wisconsin Women for Agriculture.
Click on the links below to view winners and more information.
Pop in with the Presidents
SASES will once again offer this popular event in 2017. The event is free, but RSVP is required and space is limited. Sign up opens fall 2017.
Tours
Tours are specifically and exclusively for undergraduates. All tours are taking place Saturday, October 21, 2017. You may choose which tour you'd like to go on when you submit your registration for the Annual Meeting. View Tour Descriptions.
Professional Development

The Career Fair will once again be held on Monday 3pm - 6pm in the Career Center. Join us and lots of potential employers on October 23 .
Socials
For photos from Socials visit the SASES Facebook page.
FAQ
How should I dress for the meeting?
Check out this document for an overview. Also go to the Facebook page to see images of students from last year.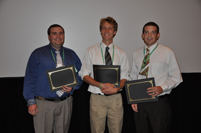 For more information, contact
Susan Chapman
Director of Member Services
608-268-4951, schapman@sciencesocieties.org